To send today's card:
Christmas Eve
Send an
Advent Cards
Send a
Christmas Cards
Quote for the Day:
And the angel said unto them, "Fear not! For, behold, I bring you tidings of great joy, Which shall be to all people. "For unto you is born this day in the city of David A Saviour, which is Christ the Lord. And this shall be a sign unto you: Ye shall find the babe wrapped in swaddling clothes, Lying in a manger."
LK 2:10 - 12

One more day till Christmas! Because today was Sunday I didn't do a lot for preparations .. hope to make up for that tomorrow! Certainly I don't have a choice if I want to get things done. But at least I had my mom over for dinner and that was lovely. On the way over I encouraged her to wear her mittens and we got to talking about mittens and she said, "We used to have someone in the family that liked to make mittens.... maybe it was your mother?" I didn't say anything.. because I knew my mother never made mittens. She embroidered... but did not knit or crochet.. so nope never mittens. I didn't explain to mom that she was my mother... after all why go there? Who cares about the little details like that?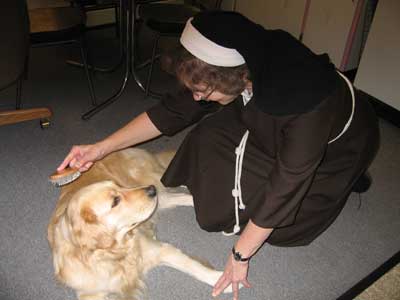 Every night... yes even in the thick of preparing for Christmas.. Shelley gets a special grooming by her own private hairdresser, Sister Jane. Sister Jane was trained to be a beautician so she has to keep in practice you know!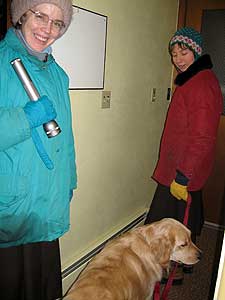 After the grooming....when she is looking her best... then Sister Colleen and Sister Jane take her out for her last trip on the town..... or okay... her last little nightly jaunt to do her duty before a long winter's nap!
Tomorrow I hope to get some pictures of our Chapel and some of the Christmas Joy that is starting to seep through the cracks already! It is getting very close!
Blessings of Peace and Joy!
Sister Patricia